We went on vacation to Lancaster County in Pennsylvania. We stayed right in Hershey. It was a great fall vacation. The weather was perfect.
We usually try to hit a few antique stores while we are away. Pennsylvania is famous for antiques. And bargains are still there for those willing to look.
And of course I saw many trunks that I would like to have brought home, but obviously space is a concern. Maybe I should have taken my trailer! LOL.
We have a Buick Enclave and it does have a lot of room. But with all of our luggage, and other purchases, I decided that I only had room for one trunk.
Since I could only pick one I had to pick one that was unique. Unlike any that I already have. At the third antique shop I saw it! The inside will be fine just the way it is. I just have to reattach one of the compartment doors that is off. The outside is really in good shape. It is all metal, except for the slats. I think that this will be an easy project!
I paid $107 total for this trunk. I did not mind though because of the shape that it is in! Can't wait to get started.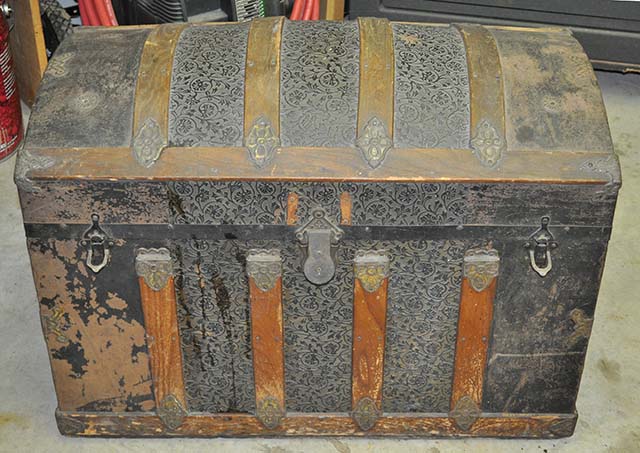 The only parts that will be needed are new straps. I have only bought one trunk that did not need new straps, so this is no big deal.
I guess that if you were on a trip and using this as luggage, these compartments would be nice. But for me they are not useful at all and just take up space. But for this trunk I have to leave them because they are in such good shape. The blue compartment door goes over the open compartment on the left in the tray. Just needs a little glue.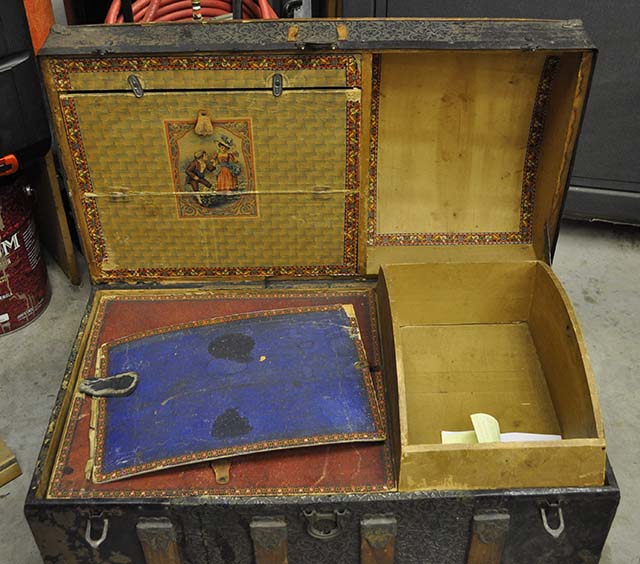 This trunk is unbelievably clean inside! And the lock is not torn up. I wish that it had a key, but I will disable the lock so that no one will lock it by accident.
I did also see a trunk for $20 that was not in too bad of shape. If I had the room I probably would have bought it just because it was so cheap.
If you see any trunks for less than a hundred dollars, just buy them. You can always resell them for that later if you change your mind!