I have cleaned the outside and removed all evidence of the leather covering.
These trunks have different types of coverings. Some include canvas, leather, and metal. I am sure that you may have seen them all and maybe some that I have not mentioned. Again, the value of a trunk will be higher in the original condition. So if you find one that the outside covering is in decent shape, think long and hard before destroying it. You may just regret it later!
I am sure that there is more than one way to remove the outer covering, but again I use warm soapy water in a spray bottle. I also keep a bucket of warm soapy water next to me with a rag in it. Now for this trunk the leather was VERY dry and was falling off. So most of it was removed without water. But there was the glue residue left behind. For that I used the warm soapy water and a putty knife. Try not to dig into the wood!
Normally you would wet a section really good and let it soak for a few minutes. While you are waiting take a razor knife and cut very carefully along the edges. I try to angle the knife to get under any surfaces that you are cutting around. You will not want to see any ragged edges left behind.
Also during each step, I am looking for sharp edges, loose parts, and splinters. We want the finished product to look old, but to be smooth and safe to the touch!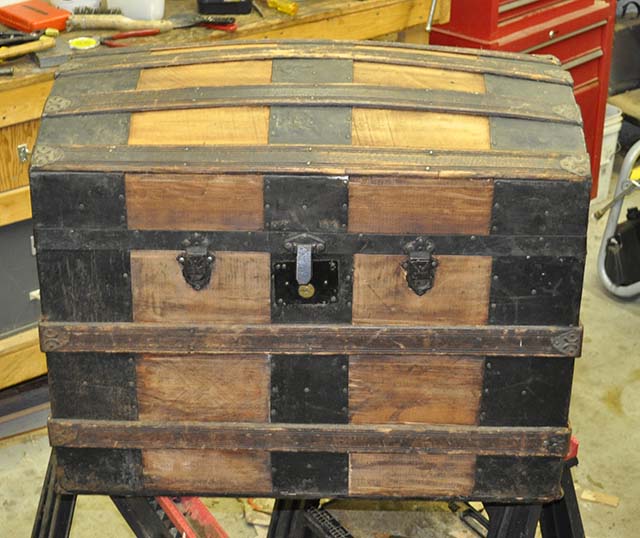 This glue and covering came off fairly easy. I have had some that were so tough I actually used paint remover on them to clean them up.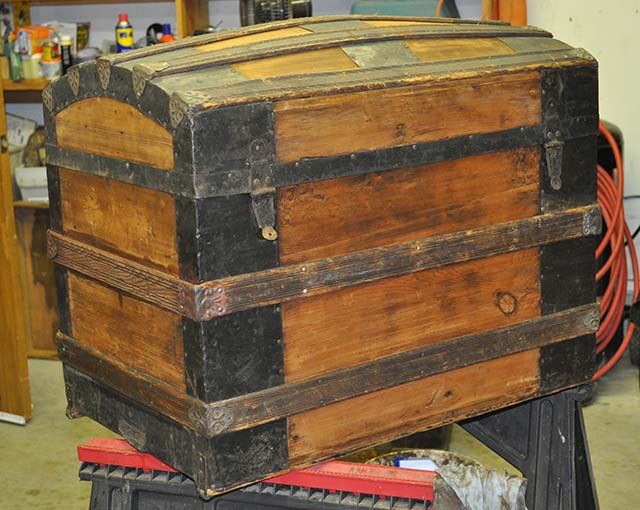 The further along you get, the more exciting it gets. You can start to get a better idea of what the finished product will look like.
I also used an air compressor to blow this off after the wetting and scraping process was complete.  I like to blow the water out of the nooks and crannies. I don't want any rust or warping problems later.
In the next step I will start the sanding process.